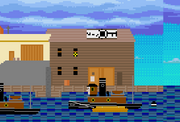 Zar is a railway tug who used to serve the Germans during World War 1. He used to transport train barges during the war. After the war, Zar was left behind ready for scrap until bought by a merchant which during that time he was swapped from owner to owner until one day whilst in Bigg City Port, the merchant who had Zar at the time offered him to Cpt. Zero since Capt. Star didn't need anymore tugs. Cpt. Zero considered taking in Zar in order to have more tugs to beat the Stars. He became no. 7 in the Z-Stacks.
Zar is similar to shape as Top Hat. He too has a monocle, but has a scar along one side of his face. He speaks with a slight German accent but well enough to understand what he's saying. When ever he's with other Z's and Zorran isn't around, he tries to command them until Zorran shows up again which then he acts normal.
Zar is based off the New York Central Tug No. 10, a railroad tug owned by the New York Central RR. This boat was in the same fleet as Top Hat's prototype, New York Central Tug No. 13.