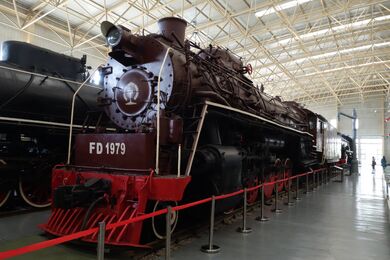 Vladislav is a China Railways FD (back in his China Railways YH designation) that was at first imported from Russia and re-gauged for use in China.
Vladislav and the other members of his class were imported from Russia from 1958 to provide main line freight motive power for the Chinese railways. He and over 1000 units were acquired, then he and they remained in service until 1985.

When imported the class were designated YH (YouHao meaning 'friendship'), but after the breakdown of Sino-Soviet relations during the Cultural revolution (see Sino–Soviet split) the class were renamed FX (FanXiu meaning 'anti-revisionist'). In 1971 the class were returned to the original designation 'FD' of soviet Russian origin (after Felix Dzerzhinsky). Saved from scrap in December 1985, and shipped over to the United States, he was the "rust-bucket" of the Dock Railway. He returned to his YH designation. He got repainted into honor of number 1979, preserved at the Beijing Railway Museum, in 2001.
He provides many jobs for the railway, like what he was meant for.
Behind the Scenes
Edit
Vladislav's model was custom-built, just by travelling to Russia and going to the Museum of the Moscow Railway, then looking at the model of a Russian locomotive class FD (number FD20-2865), then building the model, and then going back to the US with the model. Hard, huh?
Ad blocker interference detected!
Wikia is a free-to-use site that makes money from advertising. We have a modified experience for viewers using ad blockers

Wikia is not accessible if you've made further modifications. Remove the custom ad blocker rule(s) and the page will load as expected.