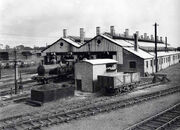 Uptown sheds were established in 1925.
The sheds are home to Renald and Danny, even though both engines are allocated to the Bigg City Port Railyard Sheds . Uptown sheds were originally the Starlite Express ' Carrige Works. In 1925, they finished the Bigg City Dock Railway Carrige Works. It was a termunis for engines who visited Uptown. Puffa slept in these sheds after the first day of winter logging had finished. In 1942, a bomb hit the shed closest to the key. It luckily was light and landed on the scafulding of the dock extension and is now a warehouse, after the fixed it to the scafulding. In 1953, Renald became the engine to be offically allocated here. Danny fallowed in 1955. Now, it's home to 4 engines. The shed has 5 berthes (1/4 of BCP's sheds), 1 turntable, and a station called "UT"(the initals of Uptown), half a mile away.
Locomotives
Edit
The fallowing engines have been temporaily allocated at Uptown Sheds
These engines have been allocated here.
Renald and Danny are twin allocated engines, meaning that they can live at either yards for different periods of time.
Ad blocker interference detected!
Wikia is a free-to-use site that makes money from advertising. We have a modified experience for viewers using ad blockers

Wikia is not accessible if you've made further modifications. Remove the custom ad blocker rule(s) and the page will load as expected.