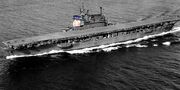 USS Tornado (CV-6) is a aircraft carrier that belong's to the US Navy who travels across the ocean carying aircraft to different places around the world. Tornado's traveling companion's are two plane's called Mike & Chris and a helicopter called Hover, along with some other plane's. He is based at the Bigg City Port Naval Station.
Tornado is based on a Yorktown class aircraft carrier.
Behind the Scene's
Edit
Tornado's model is 7 feet long so the model's of Mike, Chris, Hover and other plane model's can fit take-off from the flight deck. The model's hull was made from fiberglass with the flight deck and superstructure being madefrom perspex, the smokestack was made out of brass. Tornado's model was detailed with model kit parts.