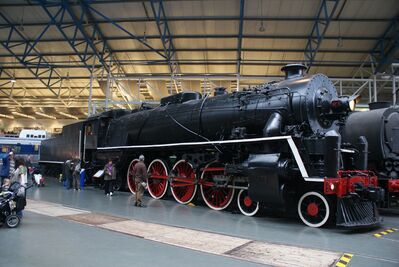 Tanshuai is a China Railways steamer owned by the Dock Railway.
Tanshaui was built in July 1933 for the Beijing-Hankou Railway. He survived the 1937 - 1945 Sino-Japanese war and retained his old classification and continued in service up to early 1970s. After retirement, he was shipped over to the United States to work at the Dock Railway in Bigg City. He has since been restored into his original China Railways livery. He still works today.
Tanshuai is based on a Chinese Government Railways Class KF 4-8-4 mainline passenger steam locomotive.
Behind the Scenes
Edit
Tanshuai's model was built from a Broadway Limited Imports HO 2513 4-8-4 Northern Steam Locomotive model of Atchison Topeka and Santa Fe #3755, heavily modified to resemble a China Railways KF.
Ad blocker interference detected!
Wikia is a free-to-use site that makes money from advertising. We have a modified experience for viewers using ad blockers

Wikia is not accessible if you've made further modifications. Remove the custom ad blocker rule(s) and the page will load as expected.