'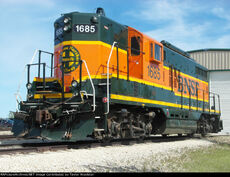 '
Tanner
is a Canadian ex-BNSF GP9 that works on the
Dock Railway
.
Tanner was built by General Motors Diesel for the Manitoba Great Northern and was passed to the Burlington Northern Manitoba Limited company. Tanner worked for BNSF until his retirement. Tanner was aquired by the Jones family to work on the Dock Railway. He still wears BNSF paint, and is always clean and fresh-looking.
Tanner is based off of BNSF 1685, a BNSF GP9 currently working for the Prairie Dog Central. Tanner's number is 1686.
Behind the Scenes
Edit
Tanner's model is a modified Athearn Genesis HO G62790 GP9, painted up to look like a BNSF unit and modified to resemble the locomotive Tanner is based off of.
Ad blocker interference detected!
Wikia is a free-to-use site that makes money from advertising. We have a modified experience for viewers using ad blockers

Wikia is not accessible if you've made further modifications. Remove the custom ad blocker rule(s) and the page will load as expected.