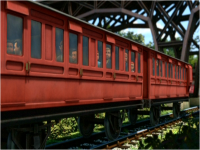 The Starlite
Express
is a train that runs between Bigg City Port and Uptown. It is mainly pulled by
Danny
, but he does let
Renald
take over from Uptown on occasions, since Renald is allocated to
Uptown Sheds
, to let Danny refuel for other trains.
Marley
,
Cabby
, and
13650
have also pulled it on occasions. It consists of 3 Coaches, a Dinning Car, a Luggage Van, and a Brakevan. It is the last privately owned intercity passenger train in the United States.
The Coaches are painted Scarlet Red.
The Dinning Car is painted Blue with a Gold and Red Stripe.
The Luggage Van is painted Pine Green
The Brakevan is painted Grey.
The Coaches are based on LBSCR Stroudley 4-wheel coaches.
The Dining Car is based on SR Maunsell Stock, LNER Gresley and GWR Suburban coaches.
The Luggage Van is based on SR luggage vans.
The Brakevan is based on GWR 20-ton breakvans.
Ad blocker interference detected!
Wikia is a free-to-use site that makes money from advertising. We have a modified experience for viewers using ad blockers

Wikia is not accessible if you've made further modifications. Remove the custom ad blocker rule(s) and the page will load as expected.