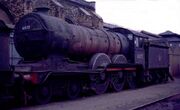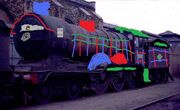 Sean is the biggest engine in Bigg City Port and works for The Dock Railway. He is used to pull both passenger and goods trains.
When Top Hat was sent to the railyard to deliver some new rail spikes he saw an old engine on a siding. The engine was Sean who had been there for years. He was the fourth engine to arrive at Bigg City Port. He was going to be broken up for spare parts. Top Hat raced to find a railway barge and a crane and found  a rail barge and Mighty Mo. Mighty Mo quickly loaded Sean onto the rail barge. Top Hat took him to Captain Star, and asked if he could do anything to help him. Captain Star made a difficult choice to keep him or not, but he decided not to. Though he sent Sean to the works. Top Hat thought he was scrapped, but Sean was saved. Captain Star had planned to fix Sean up and sell him back to the railway. While he was being fixed, a workman dropped paint on Sean. He liked the colors so he asked to workmen to paint him like that, and they did. He was sold to Casey Jones and he now works happily with everyone in the port. Sadly, he was repainted into the Dock Railway colors in 2010, but still loves everyone (except Lawrence). Since 2014, Sean goes back and forth between his patwork colors and Dock Railway colors every year since.
He is based on GER Class S69, also known as the 1500 Class, which was called the B12 locomotive by LNER and worked on the Great Eastern Railway.
He speaks in an Irish accent.
He now is used for many passsenger trains, but he mostly pulls the heavy goods trains.
His age is not known, but he was brought in to help build the port. Well at least that is what he says.
Besides being called the patchwork engine the Z stacks call him the rainbow, which makes him feel uncomfortable.