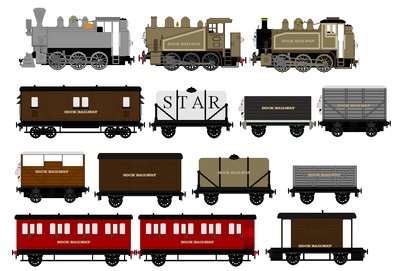 Rosie is a tomboy dockyard shunter, on loan to the Dock Railway by the North Western Railway.
Rosie originally worked on the Dock Railway during the wars. After going through various owners she was loaned to the Dock Railway in 2015 by the NWR. Now she has returned to the docks and has since been used to shunt trucks.
Rosie is based on a USATC S100 0-6-0T shunting locomotive. Rosie has both her whistle and connecting rods in different positions compared to her prototype. Rosie's whistle is positioned behind her rear dome whilst her prototype has its whistle positioned on the right side of the middle dome. Rosie's connecting rods are attached to her middle driving wheels whereas her prototype has its connecting rods attached to the rear driving wheels. Her funnel is also taller than her basis. She wears Dock Railway war paint and has silver buffers, Janney couplings, a gold painted pneumatic bell-ringer near her funnel's headlamp, air brakes, a radio, and a back headlamp.
Behind the Scenes
Edit
TBA
Voice Artist
Edit
Rosie is voiced by Teresa Gallagher.
Ad blocker interference detected!
Wikia is a free-to-use site that makes money from advertising. We have a modified experience for viewers using ad blockers

Wikia is not accessible if you've made further modifications. Remove the custom ad blocker rule(s) and the page will load as expected.