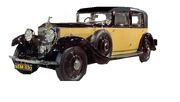 The Rolls-Royce Phantom II is a British automobile produced by the Rolls-Royce Ltd. from 1929 to 1936. The Phantom II replaced the Phantom I in Rolls-Royce's offerings in 1929. Only the chassis and mechanical parts were made by Rolls-Royce. The body was made and fitted by a coachbuilder selected by the owner. Some of the most famous coachbuilders who produced bodies for Rolls Royce cars are Park Ward, Thrupp & Maberly, Mulliner and Hooper. Some Phantom II's have appeared in some TUGS Fanon episode's.
Captain Star owns a 1931 Phantom II Sedanca De Ville as his personal car,which he named Tom. the car appear's in several episode's, mostly seen being driven by Captain Star. The car's registation number is STM 420.
Ad blocker interference detected!
Wikia is a free-to-use site that makes money from advertising. We have a modified experience for viewers using ad blockers

Wikia is not accessible if you've made further modifications. Remove the custom ad blocker rule(s) and the page will load as expected.