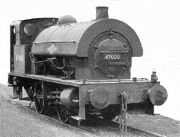 Robert and Richard are a pair of troublesome LMS 0F Kitson 0-40ST tank engines. They were sold to Casey Jones after their trickery caused a major acident. They are Co-Owned by both the Dock Railway and The Big Lake Mining Company
Personalities
Edit
Robert and Richard are cheeky and naughty and rather troublesome. According to Ten Cents, Danny is the only engine who can keep them in order.
Robert and Richard are painted Green with Blue stripes. They have nameplates mounted on their sidetanks, and have the numbers painted on their cabs.
Ad blocker interference detected!
Wikia is a free-to-use site that makes money from advertising. We have a modified experience for viewers using ad blockers

Wikia is not accessible if you've made further modifications. Remove the custom ad blocker rule(s) and the page will load as expected.