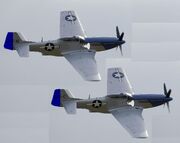 Mike and Chris are two planes that travel with USS Tornado. Mike's the smartest of the two, and also the fastest. Chris is the stupidest, and not as fast as his brother. They both look alike, and can only be telled apart by the markings on their tail's (Mike has 245-M on his tail, and Chris has 245-C on his). Both of them talk out of speakers attached to their side's. They are based on P-51 Mustang fighter planes.
Behind the Scenes
Edit
Mike and Chris's model's were built useing two "Revell" 1:32 scale Mk.XVI Spitfire model kit's that were heaveley modified to look like P-51 Mustang's.
Ad blocker interference detected!
Wikia is a free-to-use site that makes money from advertising. We have a modified experience for viewers using ad blockers

Wikia is not accessible if you've made further modifications. Remove the custom ad blocker rule(s) and the page will load as expected.