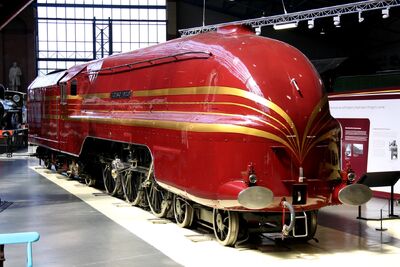 Maya is a Dock Railway's streamlined engine.
When Carla was shunting trucks at the scrapyard, she saw a old broken-down engine without many parts. The engine's name was Maya, and she was a LMS Princess Coronation Class locomotive in semi-streamlined condition. She was brought from the United Kingdom and was being used for spare parts. Carla got Casey Jones who made a deal with the scrapyard owner who gave Maya to Casey. She was re-streamlined and restored.
Now she hauls fast passenger and goods trains.
In 2014 she was visited by a number of steam locomotives from around the U.S. to help her cope being one of the last of her kind.
Maya is based on a streamlined version of a LMS Princess Coronation Class. Her number is 6231 and her name is Duchess of Atholl. She is fitted with a British-style dual buffer-and-chain/Janney coupler, high intensity headlamp, and air brakes for use on the Dock Railway.
Ad blocker interference detected!
Wikia is a free-to-use site that makes money from advertising. We have a modified experience for viewers using ad blockers

Wikia is not accessible if you've made further modifications. Remove the custom ad blocker rule(s) and the page will load as expected.