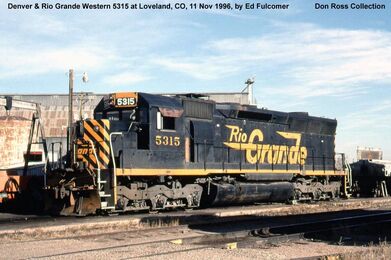 Lester is a comic relief-providing diesel working for the Dock Railway. He is one of Bugsy's only surviving brothers.
Lester was built in 1967 for the Rio Grande. His number on the D&RGW and the Dock Railway is 5316. In 1989, he was purchased from the Rio Grande prior to the Southern Pacific merger by the Dock Railway.
He has a female companion, Harley Quinn
Lester is based off of a EMD SD45.
Voice Artist
Edit
Lester is voiced by Denis Bateman. He sounds similar to Lester from the Vat19 commercial for "Lester's Food-Flavored Sodas".
Behind the Scenes
Edit
Lester's model is a Walthers Proto HO 920-41060 Diesel EMD SD45 with Rio Grande colors (Black, Aspen Gold, Large Logo). He was renumbered from 5338 using Microscale Rio Grande locomotive decals.
Ad blocker interference detected!
Wikia is a free-to-use site that makes money from advertising. We have a modified experience for viewers using ad blockers

Wikia is not accessible if you've made further modifications. Remove the custom ad blocker rule(s) and the page will load as expected.