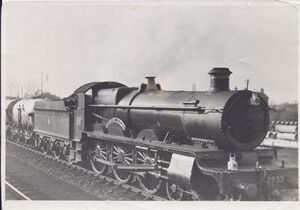 Lawrence
is a Pompous GWR 2900 Saint Class express engine owned by the Dock Railway. He primary pulls fast passenger trains, but he is sometimes pulls heavy goods trains (usually against his will). Hehas been referred to, among other things, Idiot, The Real Disgrace to the GWR, and The Evil GWR 2900 engine. He is basicly the Dock Railway's answer to Top Hat. (The two happen to be casual acquaintances) He hates Clark, and considers him a disgrace to the GWR.
Carlos
wants Lawrence scrapped and NEVER rebuilt forever.
In 2012, he was involved in a derailment on the outskirts of Bigg City. He was left rusty and out of service until he was rebuilt by Bigg City Rail Repairs (against Carlos' will), and had his appearance altered to resemble a Nickel Plate Road locomotive.
Lawrence was painted GWR green with red stripes until 2012 were he got repainted into the Nickel Plate Road heritage scheme. In addition, he got a cowcatcher, bell, a American-style whistle, and a fictional NPR number, 7331.
Ad blocker interference detected!
Wikia is a free-to-use site that makes money from advertising. We have a modified experience for viewers using ad blockers

Wikia is not accessible if you've made further modifications. Remove the custom ad blocker rule(s) and the page will load as expected.