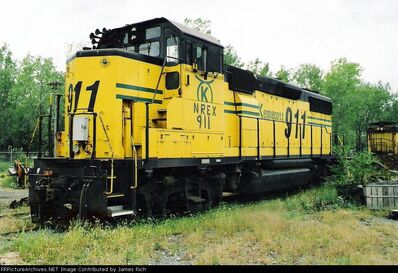 Jane is the first elevated-cab locomotive on the Dock Railway.
When Marley was getting cars to service Old McDonna's farm, he spotted a old, odd-looking EMD GP39-2 on a siding. The engine's name was Jane. She had been bought by a parts dealer and was going to be broken up for spare parts. Marley got Casey Jones and Amanda Star-Jones Jr. who had the locomotive purchased from the parts dealer. Jane now works with most of the engines as a mixed traffic locomotive.
Appearence
Edit
Jane is painted in Kennecott Utah Copper Corporation colors. On her numberboards is stick on letters and numbers reading "BCDR 911". She speaks in a Southern accent.
Jane is based on a EMD GP39-2, specifically the Kennecott elevated cab version.
Voice Artist
Edit
Jane is voiced by Denise Oliver.
Ad blocker interference detected!
Wikia is a free-to-use site that makes money from advertising. We have a modified experience for viewers using ad blockers

Wikia is not accessible if you've made further modifications. Remove the custom ad blocker rule(s) and the page will load as expected.