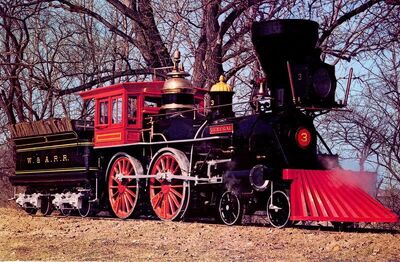 James, also known as The General, is the oldest engine on the Dock Railway. He is used to haul tourist trains along the railway.
He worked during the Civil War and has see lots of events in his own eyes.
James is based on Western & Atlantic Railroad 'General', a type 4-4-0 "American Standard" steam locomotive that was built in 1855 by The Rogers, Ketchum & Grosvenor Company of Paterson, New Jersey for the Western and Atlantic Railroad, and was involved in the "Great Locomotive Chase" of the American Civil War. (To whom it was owned by the Confederacy of the United States during the Civil War).
Voice Artist
Edit
James is voiced by Tom Kenny.
Ad blocker interference detected!
Wikia is a free-to-use site that makes money from advertising. We have a modified experience for viewers using ad blockers

Wikia is not accessible if you've made further modifications. Remove the custom ad blocker rule(s) and the page will load as expected.