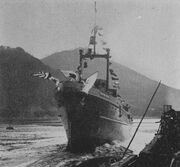 Hirohito
is a Star switcher converted from a salvage tugboat who came to the Bigg City Port after Captain Star bought him cheap off Emperor Hirohito and the Allies when the Allied occupation of Japan began at the end of World War II. He is named for the Emperor himself, and speaks with a Japanese accent. On his first day, he was constantly called a "Jap" leading to him snapping back at the other tugs of both the Star Fleet and the Z Stacks, until both Captains ordered their tugs to apologize to him.
When Hirohito died in 1989, he was repainted with a US-Japan crossed flags symbol on his stern.
In the early 2000's, he was rebuilt with a ALCO 16-251F diesel engine taken out of a VIA LRC locomotive. After some teething troubles, he laid in Lucky's Yard awaiting conversion to steam, so he could be like the other tugs. He was converted to steam in 2006, and is currently seen switching around the port.
Hirohito is based off the Tategami-class salvage tugboat, a class of rescue ship/tugboat of the Imperial Japanese Navy (IJN), serving during World War II.
Ad blocker interference detected!
Wikia is a free-to-use site that makes money from advertising. We have a modified experience for viewers using ad blockers

Wikia is not accessible if you've made further modifications. Remove the custom ad blocker rule(s) and the page will load as expected.