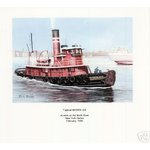 Emily is a Star switcher who came to the Bigg City Port when the McAllister Tugs company in New York didn't have room for her. She has an American accent. On her first day, Captain Star got the days muddled and ended up saying that her first day was the next day. Sunshine got the impression that Emily was a pirate until Ten Cents talked with Captain Star. She is very helpful in times of trouble.
Emily and Ten Cents apparently have a crush on each other, though neither knows about the other. In 1925, her lease with the Star Fleet expired, and she was subsequently returned to New York Harbor, although she did briefly come back to tell Captain Star about a Z-Stack plan she'd heard about.
During World War II, the McAllister corporation leased Emily back to the Star Fleet. After the war ended, Captain Star offered to buy Emily, and the McAllister tugs accepted the offer. Emily still lives in the Bigg City.
Emily McAllister is based on the Tugboat Maren Lee McAllister. Her name comes from the Z-Drive class tugboat, Emily Anne McAllister, built in 2003.
Page by User:TenCents.