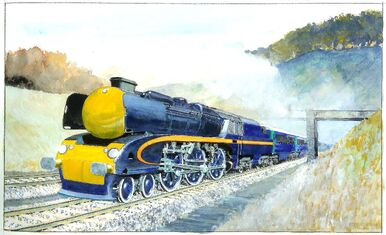 Carlos was built in 2007 by a railfan in Rhode Island. He started the project in 2006 after painting a picture. He made his dream come true with some former locomotive building workers, but the railfan had to gain $1295.31 to build him. He then went to San Fransisco and Casey Jones bought the un-named locomotive. Cents gave him the name "Carlos". He currently works on the Dock Railway. He calls Lawrence "a disgrace to the dock railway" and wants Lawrence scrapped.
Personality
Edit
He can be angry at some times, but he is still a good guy and treats the old locomotives (not including Lawrence) and Clark like a family.
Carlos is based on the 5AT Advanced Technology Steam Locomotive, which the project to build it was suspended in March 2012 following completion of a project Feasibility Study and subsequent failure to raise the finance needed to complete the detail design and construction of the locomotive
Ad blocker interference detected!
Wikia is a free-to-use site that makes money from advertising. We have a modified experience for viewers using ad blockers

Wikia is not accessible if you've made further modifications. Remove the custom ad blocker rule(s) and the page will load as expected.