Big Al is a criminal Tug who currently has no owner. He works with Johnny Cuba and Nantucket commonly, being used to tow them into port secretly so they won't get caught. He was once involved in a chase with Coast Guard through the harbor. It has been speculated that he is somehow working with Hannover. He is powerful, and can give any navy vessel a run for their money.
Big Al once was a Star Tug. He was drafted into the Navy during WW1. During the war, he mostly shuttled oil barges around the harbor, and he longed for combat. When the war ended, he was laid up at Lucky's Yard. No one bought him, and as a result, Big Al developed a resentment towards the Navy. In 1923, he was re-boilered, and prepared for use again, but there was still no buyer. Eventually, he got steam up, and escaped the yard, and he joined the Criminal Fleet. He now prowls the waters of the port, a major hazard to all tugboats. He is based off the USS Mars, a tugboat used by the Navy.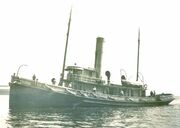 RailTUg 13:58, July 20, 2010 (UTC)
Ad blocker interference detected!
Wikia is a free-to-use site that makes money from advertising. We have a modified experience for viewers using ad blockers

Wikia is not accessible if you've made further modifications. Remove the custom ad blocker rule(s) and the page will load as expected.